We're not here to change the world. We're here to change how the world sees your business.
About Us
Very Well-Written Marketing, a content marketing agency in Miami, Florida, is what happens when business strategy meets epically creative content. When words that best represent your brand are thought about thoughtfully, written about carefully, and then added to a marketing plan guaranteed to get you noticed.
It's what happens when Michelle Dempsey and her team of content marketing strategists meet you, get to know your brand, and commit to taking it to the next level.
Very Well-Written Marketing was born to Michelle Dempsey back in 2015. Completely unexpected and totally unplanned for, Michelle needed a way to monetize her writing skills, after realizing that she must have had some writing skill. Publications such as Huffington Post, mindbodygreen, Forbes, Medium, Scary Mommy and more were clamoring to publish her work (ok, maybe clamoring is an exaggeration) but with each nationally and internationally published piece, Michelle's ability to paint a picture with the written word became sought after by friends with businesses who needed help.
Help with website design content. Help with blog content. Help with email marketing. Help with what in the world to post on social media.
From this need, a business was built.  Very Well-Written has become known for uncovering the voice behind a brand and using it to help the business stand apart amongst competitors.
About Our Founder
Meet Michelle Dempsey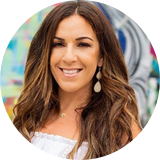 Having started Very Well-Written Marketing in early 2016, Michelle has overseen it's meteoric growth from a writing service into a full-fledged content marketing firm. Michelle writes, develops brand strategies, speaks regularly at marketing industry events and manages the day to day operations of Very Well-Written Marketing all while raising her daughter and searching for the next cup of coffee.
Michelle is a proud member of the Forbes Agency Council.


"Wow! Hiring Very Well-Written Marketing to write copy for my business has been a huge asset. In conjunction with our awesome online reviews, our blog posts have helped bring up our Google rankings.
Learn How To Take Your
Business To The Next Level.
Subscribe To Our Newsletter.